It's Tuesday . . . time for . . .
First Chapter First Paragraph Tuesday Intros
hosted by Diane at
Bibliophile by the Sea
, where bloggers post the first paragraph(s) of a book they are currently reading or planning to read sometime soon.
Today I'm featuring my current read,
After You
by Jojo Moyes, borrowed from the library.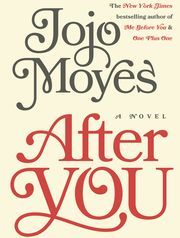 1
The big man at the end of the bar is sweating. He holds his head low over his double scotch and every few minutes he glances up and out behind him toward the door, and a fine sheen of perspiration glistens under the strip lights. He lets out a long, shaky breath disguised as a sigh and turns back to his drink.
What do you think? Would you continue reading?
This is the sequel to Me Before You, which I enjoyed, and continues the story of Louisa Clark, who is mourning the loss of her beloved Will. It's nice to have the chance to revisit a familiar character and find out what the future holds in store for her.
First Chapter ~ First Paragraph #126 was originally published by Catherine for bookclublibrarian.com. This post cannot be republished without attribution. Retweeting and sharing on Google+ encouraged.