It's Friday . . . time to share book excerpts with:
Book Beginnings on Fridays hosted by Rose City Reader, where bloggers share the first sentence or more of a current read, as well as initial thoughts about the sentence(s), impressions of the book, or anything else that the opening inspires.
The Friday 56 hosted by Freda's Voice, where you grab a book and turn to page 56 (or 56% of an ebook), find one or more interesting sentences (no spoilers), and post them.
Today I'm featuring
The French Girl
, a debut novel
by Lexie Elliott. The excerpts shared are from a hardcover edition I borrowed from the library.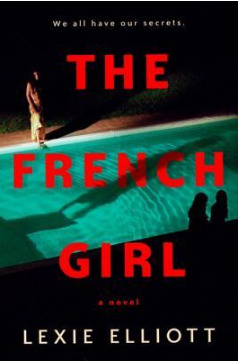 Beginning: Looking back, the most striking thing is that she knew I didn't like her and she didn't care. That type of self-possession at the tender age of nineteen--well, it's unnatural. Or French. She was very, very French.
********************
Page 56: "I suspect Lara's definition of careful won't match mine."
********************
My thoughts: I am looking forward to starting this novel, which has elements I find enticing: a French setting, college friends, a mysterious disappearance, and a body found ten years later.
********************
From Goodreads: They were six university students from Oxford--friends and sometimes more than friends--spending an idyllic week together in a French farmhouse. It was supposed to be the perfect summer getaway--until they met Severine, the girl next door.

For Kate Channing, Severine was an unwelcome presence, her inscrutable beauty undermining the close-knit group's loyalties amid the already simmering tensions. And after a huge altercation on the last night of the holiday, Kate knew nothing would ever be the same. There are some things you can't forgive, and there are some people you can't forget, like Severine, who was never seen again.

Now, a decade later, the case is reopened when Severine's body is found in the well behind the farmhouse. Questioned along with her friends, Kate stands to lose everything she's worked so hard to achieve as suspicion mounts around her. Desperate to resolve her own shifting memories and fearful she will be forever bound to the woman whose presence still haunts her, Kate finds herself buried under layers of deception with no one to set her free.
This Friday Focus post was originally written and published by Catherine for bookclublibrarian.com. It cannot be republished without attribution. Retweeting and sharing of this original post on Google+ are appreciated.