It's Friday . . . time to share book excerpts with:
Book Beginnings on Fridays hosted by Rose City Reader, where bloggers share the first sentence or more of a current read, as well as initial thoughts about the sentence(s), impressions of the book, or anything else that the opening inspires.
The Friday 56 hosted by Freda's Voice, where you grab a book and turn to page 56 (or 56% of an ebook), find one or more interesting sentences (no spoilers), and post them.
Today I'm featuring the book I'm reading with one of my book clubs: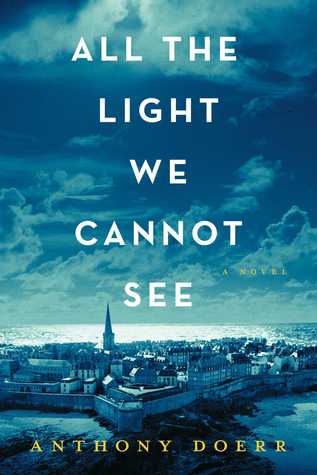 Beginning:
Zero
7 August 1944
Leaflets
At dusk they pour from the sky. They blow across the ramparts, turn cartwheels over rooftops, flutter into the ravines between houses. Entire streets swirl with them, flashing white against the cobbles. Urgent message to the inhabitants of this town, they say. Depart immediately to open country.
*********************
Page 56: "She watches New York City recede; the forts of New Jersey salute her departure with cannons; channel markers bob in the swells. A lightship with twin beacons glides past as America recedes; ahead wait the great glittering prairies of the Atlantic."
*********************
From Goodreads: Marie-Laure lives with her father in Paris near the Museum of Natural History, where he works as the master of its thousands of locks. When she is six, Marie-Laure goes blind and her father builds a perfect miniature of their neighborhood so she can memorize it by touch and navigate her way home. When Marie-Laure is twelve, the Nazis occupy Paris, and father and daughter flee to the walled citadel of Saint-Malo, where Marie-Laure's reclusive great-uncle lives in a tall house by the sea. With them they carry what might be the museum's most valuable and dangerous jewel.

In a mining town in Germany, the orphan Werner grows up with his younger sister, enchanted by a crude radio they find. Werner becomes an expert at building and fixing these crucial new instruments, a talent that wins him a place at a brutal academy for Hitler Youth, then a special assignment to track the resistance. More and more aware of the human cost of his intelligence, Werner travels through the heart of the war and, finally, into Saint-Malo, where his story and Marie-Laure's converge.
Which book are you reading now or about to start?
Friday Focus: The Friday 56 & Book Beginnings #82 was originally published by Catherine for bookclublibrarian.com. This post cannot be republished without attribution. Retweeting and sharing on Google+ are encouraged and appreciated.