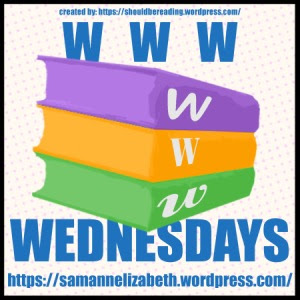 This mid-weekly meme consists of answering The Three Ws:
What are you currently reading?
What did you recently finish reading?
What do you think you'll read next?
I'm reading . . .
The story is a first-rate thriller that keeps your attention as you learn more about the main characters and a terrible incident that plays out over the course of a weekend in an isolated house deep in the woods. More from
Goodreads.
I finished reading . . .
This first book in a new mystery series has writer Rachel Goldman racing against the clock to catch a serial killer, who has kidnapped and murdered other mystery writers, before she becomes the next victim. She is assisted in her quest by a mysterious investigator who claims to be the main character in her mystery series. The unusual elements of the story guarantee an interesting sequel. More from Goodreads.
Next up in the reading queue is this story of travel, friendship, and love. More from
Goodreads.
Publisher: Flatiron Books
Publication Date: October 4, 2016


From barnesandnoble.com
:
To four girls who have nothing, their friendship is everything: they are each other's confidants, teachers, and family. The girls are all named Guinevere—Vere, Gwen, Ginny, and Win—and it is the surprise of finding another Guinevere in their midst that first brings them together. They come to The Sisters of the Supreme Adoration convent by different paths, delivered by their families, each with her own complicated, heartbreaking story that she safeguards. Gwen is all Hollywood glamour and swagger; Ginny is a budding artiste with a sentiment to match; Win's tough bravado isn't even skin deep; and Vere is the only one who seems to be a believer, trying to hold onto her faith that her mother will one day return for her. However, the girls are more than the sum of their parts and together they form the all powerful and confident The Guineveres,
bound by the extraordinary coincidence of their names and girded against the indignities of their plain, sequestered lives.
The nuns who raise them teach the Guineveres that faith is about waiting: waiting for the mail, for weekly wash day, for a miracle, or for the day they turn eighteen and are allowed to leave the convent. But the Guineveres grow tired of waiting. And so when four comatose soldiers from the War looming outside arrive at the convent, the girls realize that these men may hold their ticket out.
In prose shot through with beauty, Sarah Domet weaves together the Guineveres' past, present, and future, as well as the stories of the female saints they were raised on, to capture the wonder and tumult of girlhood and the magical thinking of young women as they cross over to adulthood.
What are your Wednesday updates?




WWW Wednesdays was originally published by Catherine for bookclublibrarian.com. This post cannot be republished without attribution. Retweeting and sharing on Google+ are appreciated.