It's Tuesday . . . time for . . .
First Chapter ~ First Paragraph Tuesday Intros
, now hosted by Vicki at
I'd Rather Be At The Beach
, where bloggers post the first paragraph(s) of a book they are currently reading or planning to read sometime soon.
Today I'm featuring an upcoming read, Not That I Could Tell by Jessica Strawser. The excerpt is from a hardcover edition purchased from Book of the Month club
.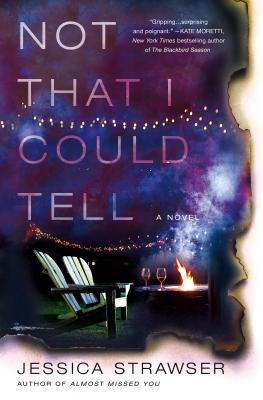 Ever wonder what your friends really think of you?
I take a lot of care in my appearance, for instance. I'm a small-town doctor's wife, so I need to look the part--even if I don't feel the part. And I have twins enrolled in pre-K at a charter school so obsessed with freethinking it will shove free thoughts down your throat. So I make sure it's obvious to everyone there what happy, healthy, cherished little people my kids are. I never forget to dress them in their pajamas for pajama day. I always sign up to bring the most elaborate snacks to the class parties. I help other moms in the parking lot when their pumpkin seats jam or their strollers collapse. I make a point of knowing all their names.
You probably think I care a lot about what my friends think.
I don't.
None of this charade is for them.
What do you think? Would you continue reading?
The narrator shares quite a bit of information in the opening paragraphs, and has me wondering what makes her tick. All seems perfect on the surface, but I get the feeling that things are really far from it once you take a closer look.
There's a considerable amount of buzz for this book, which makes me eager to start it.
This First Chapter ~ First Paragraph post was originally composed and/or compiled and published by Catherine for bookclublibrarian.com. It cannot be republished without attribution. Retweeting and sharing on Google+ are appreciated.