It's Friday . . . time to share book excerpts with:
Book Beginnings on Fridays hosted by Rose City Reader, where bloggers share the first sentence or more of a current read, as well as initial thoughts about the sentence(s), impressions of the book, or anything else that the opening inspires.
The Friday 56 hosted by Freda's Voice, where you grab a book and turn to page 56 (or 56% of an ebook), find one or more interesting sentences (no spoilers), and post them.
Today I'm featuring a current read,
Fly Girls
by Keith O'Brien. The excerpts shared are from a hardcover version borrowed from the library. It's this month's selection for one of my book clubs.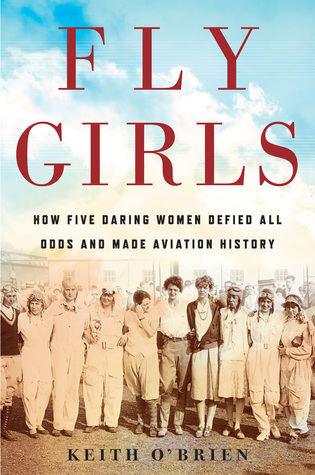 Beginning: The Miracle of Wichita
The coal peddlers west of town, on the banks of the Arkansas River, took note of the new saleswoman from the moment she appeared outside the plate-glass window. It was hard not to notice Louise McPhetridge.
********************
Page 56: The engine quit--and that's when McPhetridge made her mistake. Instead of landing straight ahead on whatever ground she could find, she tried to turn back for the airport.
********************
My thoughts: This true story of five American women from all walks of life (and all relatively unknown except for Amelia Earhart) is a fascinating read. O'Brien shares biographical information on each and recounts the obstacles they faced in entering the male-dominated field of aviation. Their bravery and determination was incredible.
********************
From Goodreads:
The untold story of five women who fought to compete against men in the high-stakes national air races of the 1920s and 1930s — and won.

Between the world wars, no sport was more popular, or more dangerous, than airplane racing. Thousands of fans flocked to multi‑day events, and cities vied with one another to host them. The pilots themselves were hailed as dashing heroes who cheerfully stared death in the face. Well, the men were hailed. Female pilots were more often ridiculed than praised for what the press portrayed as silly efforts to horn in on a manly, and deadly, pursuit.
Fly Girls
recounts how a cadre of women banded together to break the original glass ceiling: the entrenched prejudice that conspired to keep them out of the sky.

O'Brien weaves together the stories of five remarkable women: Florence Klingensmith, a high‑school dropout who worked for a dry cleaner in Fargo, North Dakota; Ruth Elder, an Alabama divorcee; Amelia Earhart, the most famous, but not necessarily the most skilled; Ruth Nichols, who chafed at the constraints of her blue‑blood family's expectations; and Louise Thaden, the mother of two young kids who got her start selling coal in Wichita. Together, they fought for the chance to race against the men — and in 1936 one of them would triumph in the toughest race of all.

Like
Hidden Figures
and
Girls of Atomic City
,
Fly Girls
celebrates a little-known slice of history in which tenacious, trail-blazing women braved all obstacles to achieve greatness.
********************
This Friday Focus: The Friday 56 & Book Beginnings post was originally composed and/or compiled and published by Catherine for the blog, bookclublibrarian.com. It cannot be republished without attribution. Sharing this original post on Twitter and/or other blogs with appropriate recognition is appreciated.