It's Friday . . . time to share book excerpts with:

Book Beginnings on Fridays hosted by Rose City Reader, where bloggers share the first sentence or more of a current read, as well as initial thoughts about the sentence(s), impressions of the book, or anything else that the opening inspires.
The Friday 56 hosted by Freda's Voice, where you grab a book and turn to page 56 (or 56% of an ebook), find one or more interesting sentences (no spoilers), and post them.
Today I'm featuring an upcoming read, Genuine Fraud by E. Lockhart. The excerpts shared are from a hardcover edition I borrowed from the library.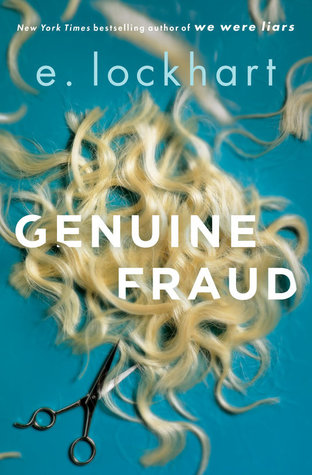 Beginning: Begin here:
It was a bloody great hotel.
Page 56
: "She was another person by the time the doors opened."
My thoughts
: The title and synopsis attracted me to this book, which I will be starting soon. I've got a feeling it's going to be a page-turner.
From Goodreads:

From the author of the unforgettable

New York Times

bestseller

We Were Liars

comes a masterful new psychological suspense novel--the story of a young woman whose diabolical smarts are her ticket into a charmed life. But how many times can someone reinvent themselves? You be the judge.

Imogen is a runaway heiress, an orphan, a cook, and a cheat.
Jule is a fighter, a social chameleon, and an athlete.
An intense friendship. A disappearance. A murder, or maybe two.
A bad romance, or maybe three.
Blunt objects, disguises, blood, and chocolate. The American dream, superheroes, spies, and villains.
A girl who refuses to give people what they want from her.
A girl who refuses to be the person she once was.



This Friday Focus post was originally written and published by Catherine for bookclublibrarian.com. It cannot be republished without attribution. Retweeting and sharing on Google+ are appreciated.