It's Friday . . . time to share book excerpts with:

Book Beginnings on Fridays hosted by Rose City Reader, where bloggers share the first sentence or more of a current read, as well as initial thoughts about the sentence(s), impressions of the book, or anything else that the opening inspires.
The Friday 56 hosted by Freda's Voice, where you grab a book and turn to page 56 (or 56% of an ebook), find one or more interesting sentences (no spoilers), and post them.
Today I'm featuring an upcoming read, The Things We Wish Were True by Marybeth Mayhew Whalen. The excerpts shared are from a copy I found on my Kindle.
Every so often, I'll come across a title hiding on my little gadget that I didn't know I had and/or don't remember getting. While my physical book shelves are constant visual reminders of my collection, what is lingering in the cloud is always a surprise.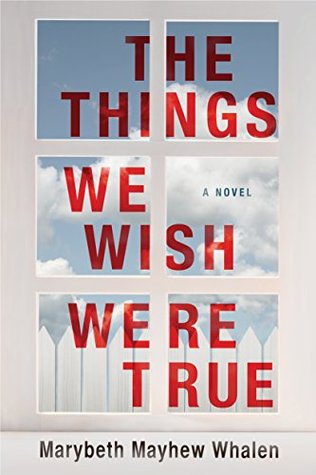 Beginning: Memorial Day Weekend, 2014
Sycamore Glen Neighborhood Pool
Cutter and I were there when they opened the Sycamore Glen pool for the summer.
So I actually saw, with my own eyes, the spider web that was woven across the gate, keeping all the people from just walking right on in like they'd done every year.
56% of eBook
: "She hadn't answered to her parents in fifteen years and wondered how it was that she was back to making excuses as to her whereabouts."
My thoughts
: I can feel the anticipation of summer in the opening lines. Based on the synopsis, however, it sounds as though this will be anything but another ordinary summer in Matthews, North Carolina.
From Goodreads: In an idyllic small-town neighborhood, a near tragedy triggers a series of dark revelations.
From the outside, Sycamore Glen, North Carolina, might look like the perfect all-American neighborhood. But behind the white picket fences lies a web of secrets that reach from house to house.


Up and down the streets, neighbors quietly bear the weight of their own pasts—until an accident at the community pool upsets the delicate equilibrium. And when tragic circumstances compel a woman to return to Sycamore Glen after years of self-imposed banishment, the tangle of the neighbors' intertwined lives begins to unravel.

During the course of a sweltering summer, long-buried secrets are revealed, and the neighbors learn that it's impossible to really know those closest to us. But is it impossible to love and forgive them?



This Friday Focus post was originally composed, compiled, and published by Catherine for bookclublibrarian.com. It cannot be republished without attribution. Retweeting and sharing on Google+ are appreciated.