It's Tuesday . . . time for . . .
First Chapter ~ First Paragraph Tuesday Intros
, now hosted by Vicki at
I'd Rather Be At The Beach
, where bloggers post the first paragraph(s) of a book they are currently reading or planning to read sometime soon.
Today I'm featuring the opening paragraph from Before We Were Yours by Lisa Wingate. The e

xcerpts shared are from a library copy.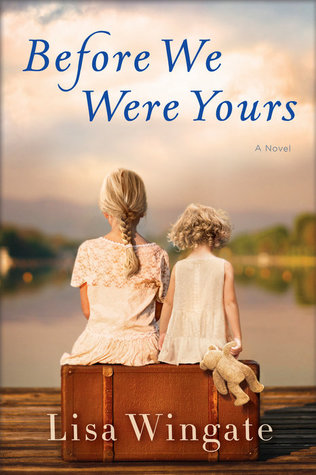 Prelude
Baltimore, Maryland
August 3, 1939
My story begins on a sweltering August night, in a place I will never set eyes upon. The room takes life only in my imaginings. It is large most days when I conjure it. The walls are white and clean, the bed linens crisp as a fallen leaf. The private suite has the very finest of everything. Outside, the breeze is weary, and the cicadas throb in the tall trees, their verdant hiding places just below the window frames. The screens

s

way inward as the attic fan rattles overhead, pulling at wet air that has no desire to be moved.
What do you think? Would you continue reading?
I have been eyeing this book for a while now, and have added it to my (hopefully) soon to be read stack. It was inspired by a true story, and the cover beckons me to learn

more about the narrator's story

.
Have you read it? If so, what did you think?
This First Chapter ~ First Paragraph post was originally composed and/or compiled and published by Catherine for bookclublibrarian.com. It cannot be republished without attribution. Retweeting and sharing on Google+ are appreciated.