Can't-Wait Wednesday
is a weekly meme hosted by Tessa at
Wishful Endings
which spotlights and discusses forthcoming books that bloggers are looking forward to reading. Generally it's about books that haven't been released yet. This meme is based on
Waiting on Wednesday
, formerly hosted by Jill at
Breaking the Spine
.
This is the first time I'm adding a post to Wishful Endings, although I was a frequent past participant of Waiting on Wednesday. It's good to have found a new Wednesday landing place to highlight the soon-to-be published books that I'm anxiously waiting for.
This week's I Can't Wait For book is . . .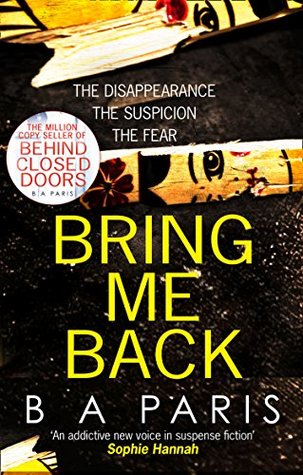 Publisher: St. Martin's Press
Publication Date: June 19, 2018
From Goodreads: A young British couple are driving through France on holiday when they stop for gas. He runs in to pay, she stays in the car. When he returns her car door has been left open, but she's not inside. No one ever sees her again.

Ten years later he's engaged to be married; he's happy, and his past is only a tiny part his life now. Until he comes home from work and finds his new wife-to-be is sitting on their sofa. She's turning something over in her fingers, holding it up to the light. Something that would have no worth to anyone else, something only he and she would know about because his wife is the sister of his missing first love.

As more and more questions are raised, their marriage becomes strained. Has his first love somehow come back to him after all this time? Or is the person who took her playing games with his mind?
My thoughts: I have read--and been riveted by--B.A. Paris's prior novels,
Behind Closed Doors
and
The Breakdown.
Paris's gripping fiction places her in the category of first-rate master of the psychological thriller genre, and she has become a favorite author of mine.
This Can't-Wait Wednesday post was originally composed and/or compiled and published by Catherine for bookclublibrarian.com. It cannot be republished without attribution. Retweeting and sharing this original po

st

on Google+ are appreciated.