It's Friday . . . time to share book excerpts with:
Book Beginnings on Fridays hosted by Rose City Reader, where bloggers share the first sentence or more of a current read, as well as initial thoughts about the sentence(s), impressions of the book, or anything else that the opening inspires.
The Friday 56 hosted by Freda's Voice, where you grab a book and turn to page 56 (or 56% of an ebook), find one or more interesting sentences (no spoilers), and post them.
Today I'm featuring
The Perfect Stranger
by Megan Miranda. The excerpts shared are from a hardcover edition I borrowed from the library.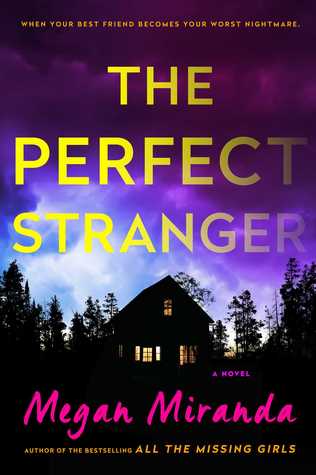 Beginning: Prologue
The cat under the front porch was at it again. Scratching at the slab of wood that echoed through the hardwood floors of my bedroom. Sharpening its claws, marking its territory

—

relentless in the dead of night.
********************
Page 56:
"It was a harmless habit, she'd claimed, and I rarely called her on it."
********************
My thoughts:
The image of the cat seems like a glaring omen to me. It makes me want to dive right into the rest of the story.
********************
From Goodreads:
In the masterful follow-up to the New York Times bestseller
All the Missing Girls
—"think:
Luckiest Girl Alive, The Girl on the Train, Gone Girl
" (TheSkimm)—a journalist sets out to find a missing friend, a friend who may never have existed at all.

Confronted by a restraining order and the threat of a lawsuit, failed journalist Leah Stevens needs to get out of Boston when she runs into an old friend, Emmy Grey, who has just left a troubled relationship. Emmy proposes they move to rural Pennsylvania, where Leah can get a teaching position and both women can start again. But their new start is threatened when a woman with an eerie resemblance to Leah is assaulted by the lake, and Emmy disappears days later.

Determined to find Emmy, Leah cooperates with Kyle Donovan, a handsome young police officer on the case. As they investigate her friend's life for clues, Leah begins to wonder: did she ever really know Emmy at all? With no friends, family, or a digital footprint, the police begin to suspect that there is no Emmy Grey. Soon Leah's credibility is at stake, and she is forced to revisit her past: the article that ruined her career. To save herself, Leah must uncover the truth about Emmy Grey—and along the way, confront her old demons, find out who she can really trust, and clear her own name.

Everyone in this rural Pennsylvanian town has something to hide—including Leah herself. How do you uncover the truth when you are busy hiding your own?
********************
This Friday Focus post was originally written and published by Catherine for bookclublibrarian.com. It cannot be republished without attribution. Retweeting and sharing of this original post on Google+ are appreciated.