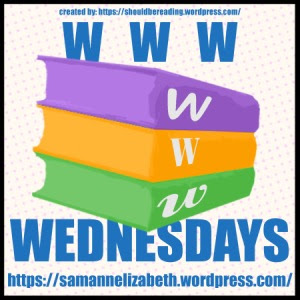 This mid-weekly meme consists of answering The Three Ws:
What are you currently reading?
What did you recently finish reading?
What do you think you'll read next?
I'm reading . . .
I'm only a few chapters in, but it has me hooked. The story opens with a mystery writer being contacted by a man who has the same name and profession as the protagonist of the series she's been writing. I'm curious to see how the plot will unfold. And it's the start of a new series . . .more from
Goodreads.
I finished reading . . .
This murder mystery set in a village on an English marsh has no shortage of suspects, and the many twists and turns kept me guessing until the very end. More from
Goodreads.
Next up in the reading queue is this psychological thriller. More from
Goodreads.
I'm waiting for . . .
Publisher: Gallery Books
Publication Date: October 4, 2016
From barnesandnoble.com

:

In the bestselling tradition of

A Man Called Ove

and the beloved film

Love Actually

, a quirky, socially awkward man goes on a quest to find his wife a last-minute Christmas gift and encounters several distractions—including bumping into his ex-girlfriend who was the one who got away.
Henry Quantum has several thoughts going through his head at any given time, so it's no surprise when he forgets something very important—specifically, a Christmas gift for his wife, which he realizes on the morning of December 23. Henry sets off that day in search of the perfect present for her: a bottle of Chanel No. 5 perfume. But much like Henry's ever-wandering mind, his quest takes him in different and unexpected directions, including running into the former love of his life, Daisy. His wife, meanwhile, unhappy in her marriage, is hiding a secret of her own. And Daisy, who has made the unsettling choice of leaving her husband to strike out on her own, finds herself questioning whether she and Henry belong together after all.
A sweet, funny, and touching debut from author Pepper Harding shows how the seemingly insignificant events of one single day can change our lives forever—perhaps, if we're lucky, for the better.
What are your Wednesday updates?




WWW Wednesdays was originally published by Catherine for bookclublibrarian.com. This post cannot be republished without attribution. Retweeting and sharing on Google+ are appreciated.