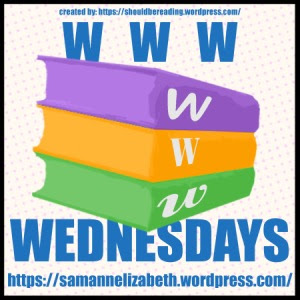 This mid-weekly meme consists of answering The Three Ws:
What are you currently reading?
What did you recently finish reading?
What do you think you'll read next?
I'm reading . . .
I borrowed an ARC of this book, which will be published this September, from a librarian friend. It is a suspenseful read that hooked me immediately. More from
Goodreads.
****************************
I finished reading . . .
I didn't expect to, but I fell completely in love with the oddball called Ove. On the surface, Ove is a stickler for details, unsociable, ornery, and set in his ways. As the story unfolds, however, the details of the trials and traumas Ove has suffered over the years give insight into what has shaped his character. When it appears that Ove can no longer endure the sadness and losses of his life, encounters with his new neighbors and a stray cat lead to unexpected friendships and give new meaning to Ove's life. This novel, filled with dark humor and unforgettable characters, is ultimately uplifting and profound. More from
Goodreads.
****************************
I'm reading next . . .
This mystery, described as a dark and gothic tale, is very popular at the library. It took a while to get my hands on a copy. More from
Goodreads.
****************************
I'm waiting for . . .
Publisher: St. Martin's Press
Publication Date: November 22, 2016



From barnesandnoble.com
: "They think I am still a little girl who is not capable of being a Queen."
Lord Melbourne turned to look at Victoria. "They are mistaken. I have not known you long, but I observe in you a natural dignity that cannot be learnt. To me, ma'am, you are every inch a Queen."
In 1837, less than a month after her eighteenth birthday, Alexandrina Victoria – sheltered, small in stature, and female – became Queen of Great Britain and Ireland. Many thought it was preposterous: Alexandrina — Drina to her family — had always been tightly controlled by her mother and her household, and was surely too unprepossessing to hold the throne. Yet from the moment William IV died, the young Queen startled everyone: abandoning her hated first name in favor of Victoria; insisting, for the first time in her life, on sleeping in a room apart from her mother; resolute about meeting with her ministers alone.
One of those ministers, Lord Melbourne, became Victoria's private secretary. Perhaps he might have become more than that, except everyone argued she was destined to marry her cousin, Prince Albert of Saxe-Coburg and Gotha. But Victoria had met Albert as a child and found him stiff and critical: surely the last man she would want for a husband….
Drawing on Victoria's diaries as well as her own brilliant gifts for history and drama, Daisy Goodwin, author of the bestselling novels
The American Heiress
and
The Fortune Hunter
as well as creator and screenwriter of the new PBS/Masterpiece drama
Victoria
, brings the young queen even more richly to life in this magnificent novel.
What are your Wednesday updates?




WWW Wednesdays was originally published by Catherine for bookclublibrarian.com. This post cannot be republished without attribution. Retweeting and sharing on Google+ are appreciated.