It's Friday . . . time to share book excerpts with:
Book Beginnings on Fridays hosted by Rose City Reader, where bloggers share the first sentence or more of a current read, as well as initial thoughts about the sentence(s), impressions of the book, or anything else that the opening inspires.
The Friday 56 hosted by Freda's Voice, where you grab a book and turn to page 56 (or 56% of an ebook), find one or more interesting sentences (no spoilers), and post them.
Today I'm featuring my current recent read,
It's Always the Husband
by Michele Campbell. The excerpts shared are from the hardcover (borrowed from the library).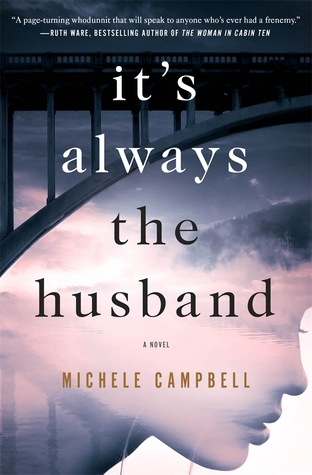 Beginning:
Present Day
The Night of Her Fortieth Birthday

She stumbled through the dark woods, the trees dripping raindrops onto her hair and her party dress. Her shoes were covered in mud, and she trembled from the cold.


Page 56

: "She was half

t

empted to do something crazy, just to show them, to get

them off her back once and for all.

"
My thoughts
:
The lives of three young women from very different backgrounds intertwine in unexpected and fateful ways in this captivating read.
F

rom Goodreads:
Kate, Aubrey, and Jenny. They first met as college roommates and soon became inseparable, even though they are as different as three women can be. Twenty years later, one of them is standing at the edge of a bridge . . and someone else is urging her to jump.

How did things come to this?

As the novel cuts back and forth between their college years and their adult years, you see the exact reasons why these women love and hate each other—but can feelings that strong lead to murder? Or will everyone assume, as is often the case, that it's always the husband?
********************
This Friday Focus post was originally written and published by Catherine for bookclublibrarian.com. It cannot be republished without attribution. Retweeting and sharing on Google+ are appreciated.