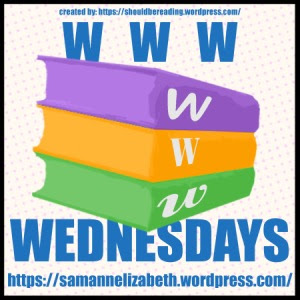 This mid-weekly meme consists of answering The Three Ws:
What are you currently reading?
What did you recently finish reading?
What do you think you'll read next?
Here are my updates . . .
looking forward to seeing what's in your reading queue. . .
I'm currently reading . . .
The Marsh King's Daughter
I recently finished reading . . .
Exit West
A poignant fictionalized account of the plight of migrants fleeing their war-torn country in search of sanctuary and a new place to call home.
Elementary, She Read
A promising start to a new cozy mystery series bound to appeal to Anglophiles, Holmes aficionados, cozy mystery lovers, and fans of stories set in bookstores.
Purr M for Murder
Sisters team up to save an animal shelter in this first book in a new series. Murder, mayhem, and cat antics ensue.
I'll be reading next . . .
It's Always the Husband
What are your Wednesday updates?




WWW Wednesdays was originally published by Catherine for bookclublibrarian.com. This post cannot be republished without attribution. Retweeting and sharing on Google+ are appreciated.