It's Friday . . . time to share book excerpts with:
Book Beginnings on Fridays hosted by Rose City Reader, where bloggers share the first sentence or more of a current read, as well as initial thoughts about the sentence(s), impressions of the book, or anything else that the opening inspires.
The Friday 56 hosted by Freda's Voice, where you grab a book and turn to page 56 (or 56% of an ebook), find one or more interesting sentences (no spoilers), and post them.
Today I'm featuring my current read,
Before We Were Yours
by Lisa Wingate, which is the selection of one of my book clubs. The excerpts shared are from a hardcover version borrowed from the library.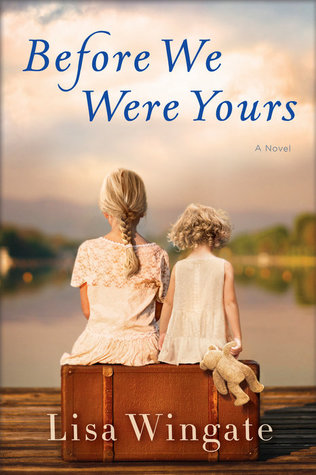 Beginning: Prelude: Baltimore, Maryland

—

August 3, 1939
My story begins on a sweltering August night, in a place I will never set eyes upon. The room takes life only in my imaginings. It is large most days when I conjure it.
********************
Chapter 1
Avery Stafford
Aiken, South Carolina, Present Day
I take a breath, scoot to the edge of the seat, and straighten my jacket as the limo rolls to a stop on the boiling-hot asphalt. News vans wait along the curb, accentuating the importance of this morning's seemingly innocuous meeting.
********************

Page 56: I'd rather be outside watching the river and its animals and listening to Briny spin stories about knights, and castles, and Indians out west, and far-off places.
********************
My thoughts:
This book has received lots of buzz since its publication last year. It's still quite popular, based on the number of library holds, and its subject matter makes it appealing to both book clubs and individual readers.
********************
From Goodreads: Memphis, 1939. Twelve-year-old Rill Foss and her four younger siblings live a magical life aboard their family's Mississippi River shantyboat. But when their father must rush their mother to the hospital one stormy night, Rill is left in charge—until strangers arrive in force. Wrenched from all that is familiar and thrown into a Tennessee Children's Home Society orphanage, the Foss children are assured that they will soon be returned to their parents—but they quickly realize the dark truth. At the mercy of the facility's cruel director, Rill fights to keep her sisters and brother together in a world of danger and uncertainty.

Aiken, South Carolina, present day. Born into wealth and privilege, Avery Stafford seems to have it all: a successful career as a federal prosecutor, a handsome fiancé, and a lavish wedding on the horizon. But when Avery returns home to help her father weather a health crisis, a chance encounter leaves her with uncomfortable questions and compels her to take a journey through her family's long-hidden history, on a path that will ultimately lead either to devastation or to redemption.

Based on one of America's most notorious real-life scandals—in which Georgia Tann, director of a Memphis-based adoption organization, kidnapped and sold poor children to wealthy families all over the country—Lisa Wingate's riveting, wrenching, and ultimately uplifting tale reminds us how, even though the paths we take can lead to many places, the heart never forgets where we belong.
********************
This Friday Focus: The Friday 56 & Book Beginnings post was originally composed and/or compiled and published by Catherine for the blog, bookclublibrarian.com. It cannot be republished without attribution. Sharing this original post on Twitter, Google+ and/or other blogs with appropriate recognition is appreciated.