It's Tuesday . . . time for . . .
First Chapter ~ First Paragraph Tuesday Intros
, now hosted by Vicki at
I'd Rather Be At The Beach
, where bloggers post the first paragraph(s) of a book they are currently reading or planning to read sometime soon.
Today I'm
featuring an upcoming read, Where the Crawdads Sing by Delia Owens. The excerpts shared are from the hardcover edition I purchased.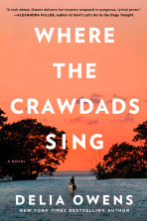 Part 1
The Marsh
Prologue
1969
Marsh is not swamp. Marsh is a space of light, where grass grows in water, and water flows into the sky. Slow-moving creeks wander, carrying the orb of the sun with them to the sea, and long-legged birds lift with unexpected grace--as though not built to fly--against the roar of a thousand snow geese.
* * * * * * *
1.
Ma

1952
The morning burned so August-hot, the marsh's moist breath hung the oaks and pines with fog. The palmetto patches stood unusually quiet except for the low, slow flap of the heron's wings lifting from the lagoon. And then, Kya, only six at the time, heard the screen door slap. Standing on the stool, she stopped scrubbing grits from the pot and lowered it into the basin of worn-out suds. No sounds now but her own breathing. Who had left the shack? Not Ma. She never let the door slam.






What do you think? Would you continue reading?
I've heard all the buzz, I've seen the 60 Minutes interview of the author, and now that one of my book clubs has selected this novel for its next discussion, I'll have the chance to personally find out what all the hype is about.






This First Chapter ~ First Paragraph post was originally composed and/or compiled and published by Catherine for the blog, bookclublibrarian.com. It cannot be republished without attribution. Sharing this original post on Twitter with appropriate recognition is appreciated.