It's Tuesday . . . time for . . .
First Chapter ~ First Paragraph Tuesday Intros
, now hosted by Vicki at
I'd Rather Be At The Beach
, where bloggers post the first paragraph(s) of a book they are currently reading or planning to read sometime soon.
Today I'm
featuring a recent blog tour read, Wed, Read & Dead by V.M. Burns. The excerpt shared is from an eBook version I received from the publisher in exchange for an honest review.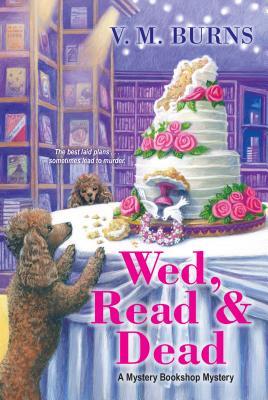 Chapter 1


"If you don't get your fanny out of that dressing room in the next thirty seconds, I'll come in and drag you out."

I recognized the tone in my grandmother's voice well enough to realize she meant business. Three hours of trying on every bubble-gum-pink bridesmaid dress in South Harbor's one and only wedding shop had left all of us in a foul mood. I took one last look at my reflection in the mirror and resigned myself to my fate. The hoopskirt under my ballroom gown was so large I had to turn sideways and wiggle to get through the dressing room door, but given this was the seventh or eighth dress I'd tried on, I had mastered the technique fairly well.



What do you think? Would you continue reading?
This is V.M. Burns's fourth Mystery Bookshop Mystery book. The series features an inviting bookstore setting, many laugh-out-loud moments (like the one above), and a group of close-knit family members and friends who become more endearing with each new installment.
You can read my full review of
Wed, Read & Dead
and enter a contest for an Amazon gift card
by clicking this link.
My review of the first book,
The Plot is Murder
is
here.
This First Chapter ~ First Paragraph post was originally composed and/or compiled and published by Catherine for the blog, bookclublibrarian.com. It cannot be republished without attribution. Sharing this original post on Twitter with appropriate recognition is appreciated.