It's Tuesday . . . time to share book excerpts with:
First Chapter First Paragraph Tuesday Intros hosted by Diane at Bibliophile by the Sea, where bloggers post the first paragraph(s) of a book they are currently reading or planning to read sometime soon.
Teaser Tuesdays hosted by MizB of Should Be Reading, where bloggers post two (2) random "teaser" sentences--no spoilers allowed--to try to entice others to seek out these books.
Today I'm featuring the opening paragraph and a teaser from
Well Read, Then Dead
by Terrie Farley Moran, the first book in the Read "Em and Eat cozy mystery series. I'm always on the lookout for a new cozy series, and after seeing this one on several other blogs, I purchased a copy last week. I've been drooling over the cover . . .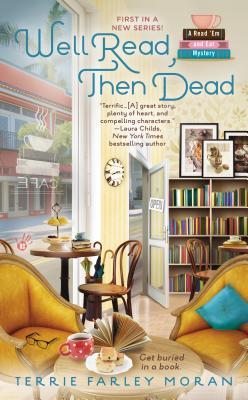 Chapter One
"Oh, pu-leeze, Rowena, Anya Seton never measured up to Daphne du Maurier's elegance. I'm shocked you would say such a thing." Jocelyn Kendall, pastor's wife and book club gadfly, crossed and recrossed her legs in perfect tempo with the ever-increasing meter of her rant. Our discussion of Green Darkness was deteriorating rapidly.
---------------------------------------------------------------
Teaser
: "Don't you worry your pretty little head, Miss Ophelia. He's here. Lots of deputies here. You can't be too sure who'll show up at a murder victim's funeral." ~ p. 135
What do you think? Would you continue reading?
The setting is a bookstore cafe in the barrier islands of Florida's Gulf Coast. I can picture myself there, and the phrase, "book club gadfly" made me laugh out loud.
What are you reading now or planning to read soon?
First Chapter ~ First Paragraph #72 and Teaser Tuesdays was originally published by Catherine for bookclublibrarian.com. This post cannot be republished without attribution.