It's Friday . . . time to share excerpts from a current or upcoming read with:
Book Beginnings on Fridays hosted by Rose City Reader, where bloggers share the first sentence or more of a current read, as well as initial thoughts about the sentence(s), impressions of the book, or anything else that the opening inspires.
The Friday 56 hosted by Freda's Voice, where you grab a book and turn to page 56 (or 56% of an ebook), find one or more interesting sentences (no spoilers), and post them.
Today I'm featuring a book I downloaded from the library.
Meet Your Baker
is the first book in the new Bakeshop cozy mystery series . . .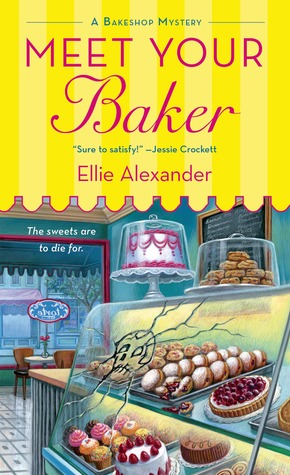 Beginning: They say it takes a while to recover your land legs after years spent at sea. I sure hoped mine would come back soon.
It had been twenty-seven hours and forty-two minutes (not that I was counting) since I left the ship, my husband, and everything I'd known for the last ten years.
********************
Page 56: "She ran her hand up and down Andy's arm. 'I'm going to grab you a Kleenex. Would you be willing to tell Juliet what you shared with me?'"
*********************
My thoughts
: I'm always thrilled to discover a new cozy mystery series. After seeing this one on many, many blogs, I thought I'd give it a try.
Which book are you reading now or about to start?
Friday Focus: The Friday 56 & Book Beginnings #65 was originally published by Catherine for bookclublibrarian.com. This post cannot be republished without attribution.